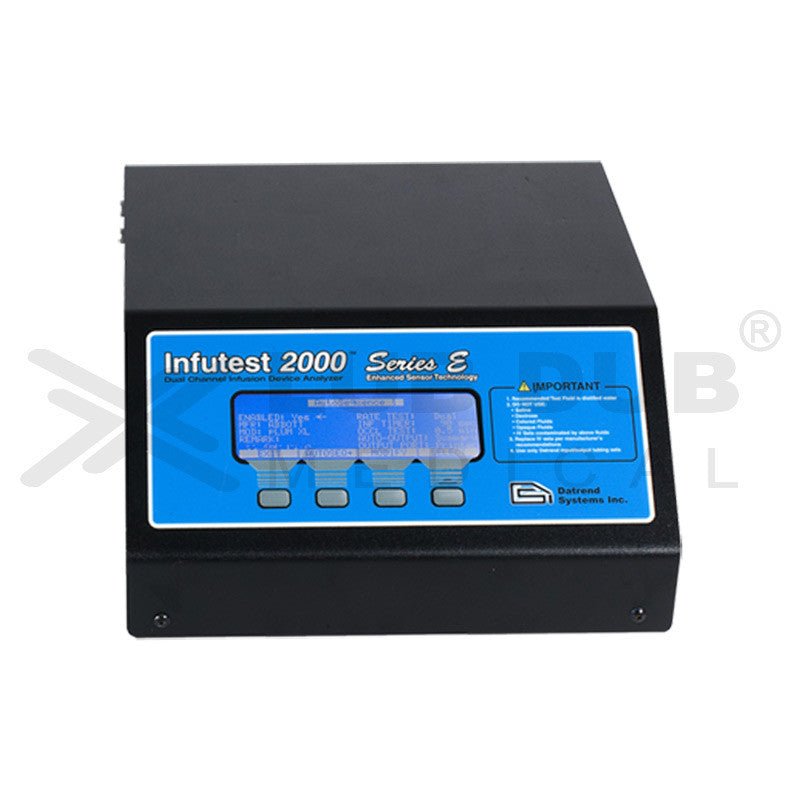 lubdub
Infutest 2000 Series E Dual Channel Infusion Device Analyzer
---
Infutest 2000 Series E
Dual-Channel Infusion Device Analyzer
Test all types – dual-rate, pulsatile flow,and PCA infusion pumps
Analyze up to four channels simultaneously
Unique "Synchro-Start" function – optimize IV Pump and Analyzer accuracy
Features
End-of-infusion analysis (EIA)
Accurate volume-to-be-infused (VTBI) measurements are a snap. EIA calculates the volume infused at the instant the STOP key is pressed or when the autosequence preset test time has elapsed.

SynchroStart
Accurately captures the initial start-up flow dynamics of your IV pump, an invaluable feature when testing pumps with a pulsatile flow pattern. No need to attempt to start both the IV pump and the analyzer at the same time to make this critical measurement. Infutest 2000 does it for you...automatically!

DTP-5 COMPANION SOFTWARE
Infutest 2000 comes complete with Windows (98/2000/XP) based data transfer program.
- (DTP-5) for quick and easy data transfer, graphical analysis, autosequence editing, plus organization and printing of test results.
Note: Product catalogue and price will be provided on customer request.
---
Share this Product
---
More from this collection